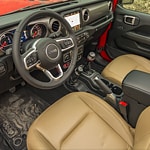 The 2020 Jeep Wrangler is a great option if you are looking for another compact sport utility vehicle. It is great on fuel and can get 29 MPG. Additionally, this vehicle has a lot of cargo space. The trail rail system is one of the features that come with this vehicle.
You will be able to easily organize your belongings. You will be able to hide your belongings in the glove box or the removable cargo floor. There is also space in the center console.
Weather-resistant removable carpet is another feature that this car has. Cleaning your car will be a lot easier. All you have to do is remove the carpet and clean it off if it gets dirty. There is also a one-way floor drain valve. Everyone should try out a vehicle to make sure that it is a good fit before they purchase it. Contact our dealership today.