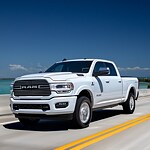 The Ram 2500 is a pretty exciting heavy-duty pickup truck that's got our customer base here at Kelley Sales and Service amped up. Its overall build and design is something to behold, but what we have paid a lot of our attention to is the vehicle's durability features, which seem to promise a long life and true reliability.
The Ram 2500 comes with features like a 50,000 PSI frame made out of hydro-formed steel. This solid build is equipped with extra cross members for additional security and maximum strength and solidity. Another feature you should know about is the five-year limited warranty on the vehicle's powertrain, which is a real testament to the faith that Ram manufacturers have in the making of their vehicles.
If you're interested in discovering just how good the Ram 2500 really feels, then come by our dealership to test drive this heavy-duty pickup truck yourself!